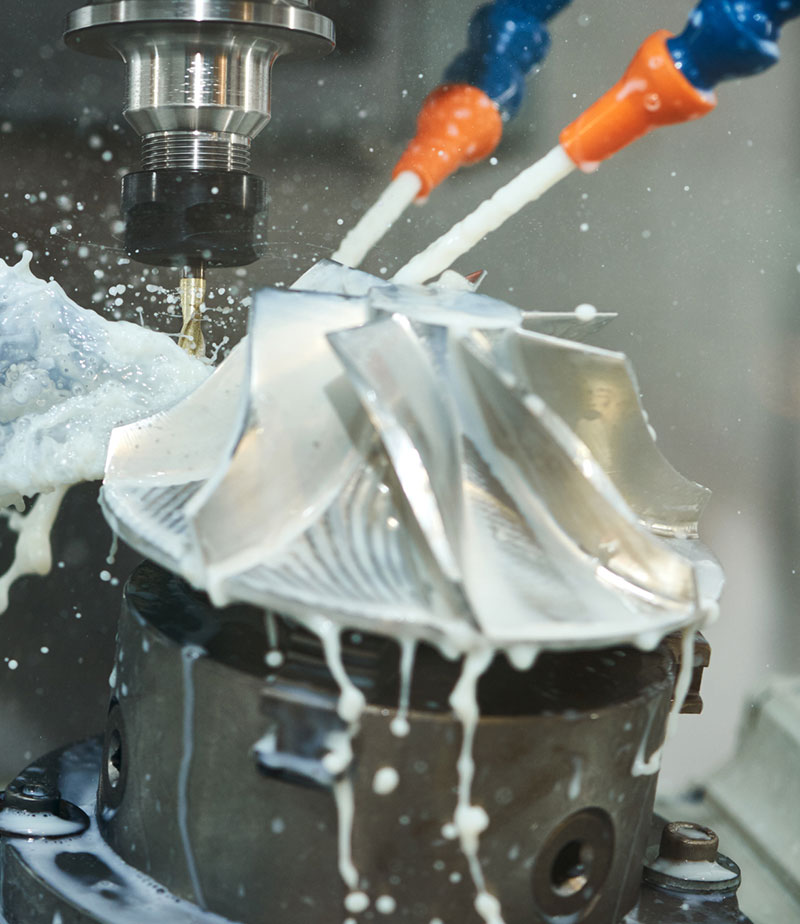 KOOLRite™ 2375 MAX semi-synthetic fluid
Premium coolant targeted to maximize machining performance
KOOLRite™ 2375 MAX is a state-of-the-art product in JTM's KOOLRite™ long lasting cutting fluids, formulated to meet the needs of customers running the most severe machining operations. KOOLRite™ 2375 MAX is designed to provide machining performance on all metals, except for magnesium, even tough to machine aerospace metals.
As part of the KOOLRite™ family, KOOLRite™ 2375 MAX utilizes JTM's unique BioArmor™ Technology to give your coolant outstanding control of bacteria without the use of bactericides or DCHA. BioArmor™ protection stops sump odors, giving you exceptionally long sump life, and provides machine operators with clean, comfortable, and safe work environment. KOOLRite™ 2375 MAX is compatible with other KOOLRite™ products and can be used over the top of KOOLRite™ 2290 and KOOLRite™ 2270 for improved machining results.
Recommended Starting Dilutions:

Operations
Iron & Carbon Steel
High Alloy & Stainless Steels
Tool Steels
Aluminum
Copper Alloys
Grinding

4% to 5%

4% to 6%

5% to 6%

5% to 7%

4% to 5%

Milling, Drilling, Turning, Cut-off, Sawing, Screw Machining

5% to 7%

7% to 8%

6% to 8%

5% to 7%

5% to 7%

Tapping, Reaming,
Broaching, and
Form Milling

5% to 7%

7% to 10%

7% to 10%

7% to 10%

5% to 7%
Directions for Use
For best results clean your sumps with JTM's Sump Cleaner Max or BioClean Sump Cleaner. Add the coolant to the water, not the reverse. For best results use a coolant mixer/dispenser. Do not mix with other metalworking fluids without consulting JTM Products first.
Refractive Factor …………1.8
(Refractive reading x 1.8 = % of concentration of dilution)
Product Data
Appearance: Clear
pH (concentrate): 9.81
pH (7% Typical Working Solution): 9.24
Density (lbs/gal): 8.50
Freeze/Thaw Stable: Yes