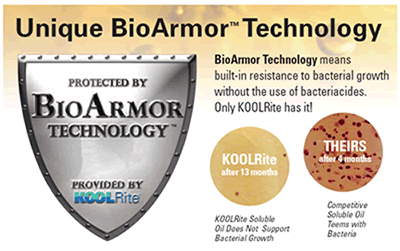 Chlorine-Free and No Bactericides: BioArmor™ Technology for Metalworking Lubricants
The KOOLRite™ line of coolants for cutting and grinding are based on a technology available only from ETNA Products. With this technology, KOOLRite soluble oil coolants have improved sump life two to eight times longer than the competition, with no offensive odors, all without troublesome bactericides or mid- to long-chain chlorinated paraffins. BioArmor™ Technology offers the metal cutting industry the first safe, truly biostable coolant and the first major change in soluble oil coolant formulation in 100 years.
In addition to not having mid- or long-chain chlorinated paraffins, KoolRite coolants do not contain the controversial additive DCHA, which many experts consider an unregistered biocide.
And, KoolRite products already meet the EPA's proposed new formaldehyde standard.
History of Coolant Development for Cutting Oils
In the early 1900's, ETNA Products, Inc., then operating as the Phoenix Oil Co., developed the first emulsified oil cutting fluid, calling it "Cut-Rite." This water/oil combination was a great improvement over the straight oils that were the norm for all cutting and grinding fluids in use at that time.
From that time on, coolant suppliers developed their formulas along a very standard line. Enhancements were made with the addition of rust inhibitors and improvements in alkaline stability. Biocides were developed and added to the coolants to control bacteria and fungus growth in the sumps. In the 1970's, concern over worker safety and EPA regulations of waste water caused the coolant manufacturers to develop safer formulations for their coolants. Although these changes were effective in achieving safety improvements, they did not result in any dramatic improvements in the overall performance of water soluble coolants.
During the post 1970's, coolant manufacturers developed new synthetic (non-oil) coolants in an attempt to improve coolant performance and eliminate the main problems with oil-based products. Overall sump life was one of the aspects that improved with this technology, but major problems plagued synthetics such as rust and deposits on machines, paint stripping, and limited success on aluminum machining.
As synthetics struggled, semi-synthetic coolants were developed. Semi-synthetic coolants were made by replacing some of the oil in the soluble oil coolants with synthetics. This approach improved performance and machine maintenance, but compromised the sump life of synthetic coolants.
In the 2000's breakthrough technology produced bio-stable soluble oil coolants, which could resist the growth of bacteria and provide very long sump life and an odor free environment. The culmination of this effort is JTM's BioArmor™ Technology. KOOLRite coolants with BioArmor Technology are the first coolants made without bactericides to provide all the advantages of oil based coolants with the long sump life of a synthetic coolant.