It's Time to Re-Think Synthetics: Introducing SynMAX™ Coolants
Since their introduction by JTM Products a decade ago, KOOLRite™ long life coolants have provided unparalleled performance, winning over many customers by maximizing machining performance along with operator comfort and safety. Today, we are proud to announce our latest breakthrough: SynMAX™ synthetic coolants. Ongoing research and development in improved additive chemistries has led to the invention of full synthetic metalworking fluids that outperform soluble oils and semi-synthetic on both steel and aluminum!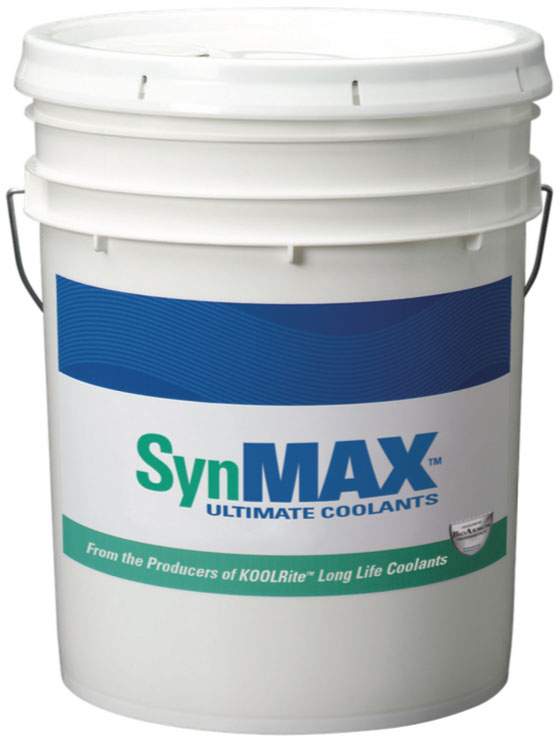 With SynMAX™ coolants you can:
Cut aluminum as efficiently as steel
Eliminate staining of sensitive metals
Eliminate surface and vapor phase corrosion
Eliminate difficult residues
Maintain clean machines leaving a light oil-like film to lubricate machine surfaces
Avoid questionable additives like DCHA
Field trials of SynMAX™ Ultimate Coolants at select customers began in November of 2017. The promising results observed during these field trials provided us with the confidence we needed to recommend SynMAX™ Ultimate Coolants, knowing these products will exhibit the performance attributes you have come to expect from the KOOLRite™ Long Life Fluids.
How are the SynMAX™ products different from KOOLRite™ products and from traditional synthetics offered on the market?
The major difference between SynMAX™ coolants and traditional KOOLRite™ products is oil content. SynMAX™ fluids are 100% oil-free. They rely on breakthrough technology to provide lubrication to parts and tools. In addition, they provide more cooling with a higher water content.
SynMAX™ coolants are perfect for:
Through the tool coolant delivery systems
Difficult to machine alloys; they are excellent for medical & aerospace
When precision tolerance and high finishes are required
When cycle time improvements are needed
When tool life improvement is needed
Multi-metal shops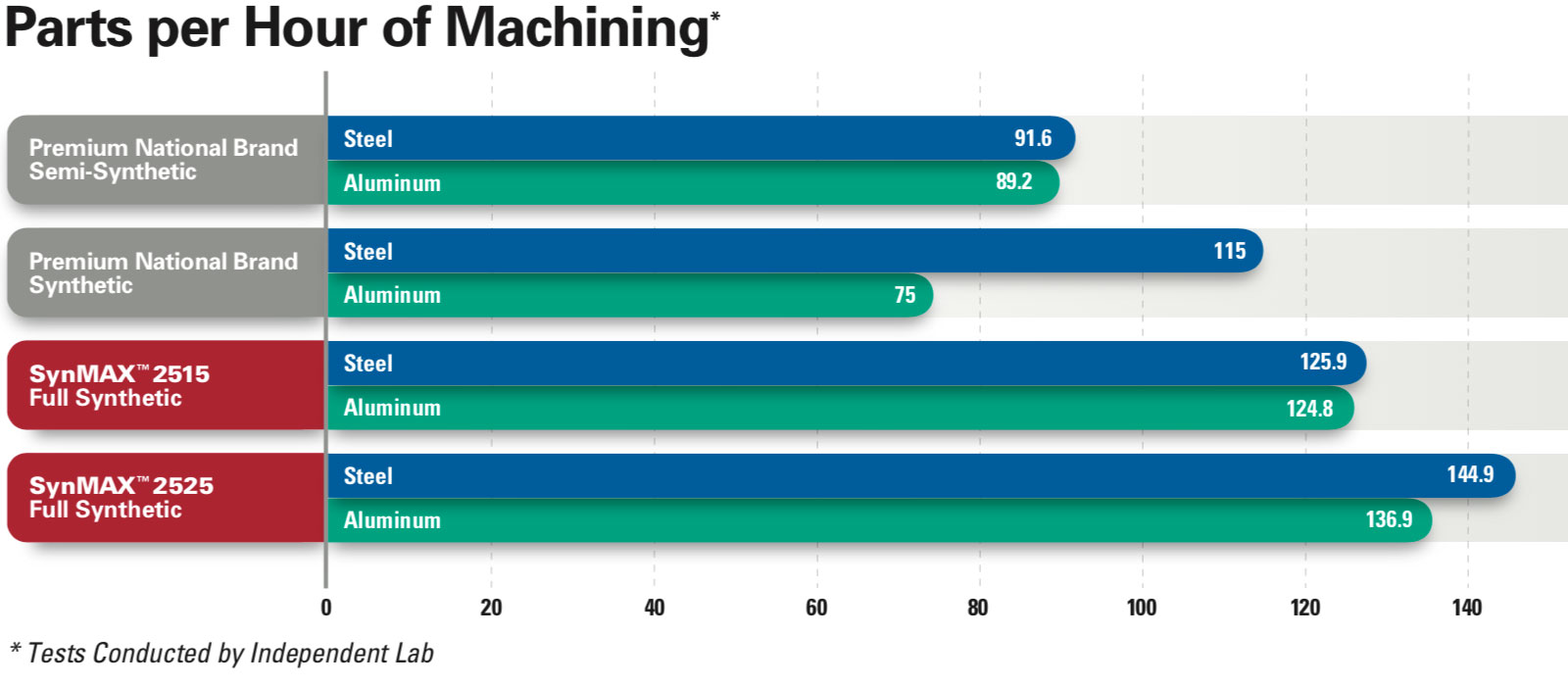 SynMAX™ Long Life Synthetic Coolants Maximize Machining Output
SynMAX™ products produce machining performance above and beyond that of traditional premium synthetics in addition to even premium semi-synthetics. Traditional synthetics lack machining performance because of their lack of oil. SynMAX™ has been carefully formulated to provide the best of machinability on not only aluminum but equally well on steel while remaining 100% oil-free.
The majority of recently released aluminum machining fluids are near neutral; boasting non-staining properties. These products are difficult to maintain in the sump as this is the perfect pH for microorganisms to thrive. SynMAX™ coolants are formulated at a pH more typical of traditional metalworking fluids; ranging from 9.0 – 9.5. A higher pH delivers longer fluid life with less maintenance than near neutral fluids; by providing an inhospitable environment to microorganisms. SynMAX™ products use a unique aluminum protective chemistry that allows a higher pH without staining the machined parts.


Traditional synthetic fluids on the market are geared either to ferrous or non-ferrous metals; rarely are these fluids able to machine both with the same efficiency. SynMAX™ synthetics have shown similar machining capabilities on both ferrous and non-ferrous metals in independent laboratory testing as well as in field trials.


Traditional synthetics leave hard crystalline residues and can cause peeling paint. SynMAX™ utilizes breakthrough technology that leaves a more oil-like film as water evaporates. This residue will not attack the machine's paint and offers corrosion inhibition in the splash zone, protecting the machine shop's investment. Residues can be incorporated back into the bulk fluid when washed down with coolant or water.
Features
Benefits
Enhanced lubrication
Provides increased tool-life contributing to cost savings and reduction of downtime
Improves part finish contributing to cost savings by generating less scrapped material and less downstream processing
Improved cleanliness
Increases the usable life of the machine while decreasing downtime for cleaning and maintenance
Extended sump-life
Decreases fluid cost by reducing change-out, downtime, and waste generation
Offers operator health and safety benefits by reducing exposure to harmful microorganisms and their released endotoxins
Who should buy these products?
Machine shops which:
Machine multi-metals in a variety of operations.
Want to improve tool-life.
Want to extend drain intervals by decreasing downtime.
Utilize through-the-tool, high-pressure delivery systems.
Want to maximize cooling with increased water content but do not want to compromise machining performance.
How do I choose the best SynMAX™ product for my shop?

A selection chart can be found within the downloadable print-quality PDF available below.