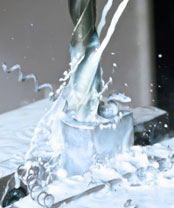 KOOLRite™ 2270 Semi-Synthetic Cutting Fluid for Moderate to Heavy Duty Machining
KOOLRite 2270 is a proven, new generation of oil-based cutting fluid that utilizes JTM's proprietary BioArmor Technology to give you a coolant with outstanding control of bacteria without the use of bactericides. With BioArmor protection, KOOLRite 2270 will stop sump odors, give you exceptionally long sump life and a clean, comfortable, safe work environment for machine operators.
KOOLRite 2270 is designed for moderate to heavy duty operations on all metals with the use of new technology that has eliminated the use of mid- or long-chain chlorinated paraffins and sulfur.
Unlike competitive oil based coolants, KOOLRite 2270 will reject tramp oils, allowing clean coolant to be delivered to the chip/tool interface keeping your machine tool clean with a minimum of residual film while providing excellent corrosion control.
Koolrite 2270 Advantages
Praised in the Shop

No sump stench!
Lowest possible coolant consumption
At least doubles your sump life!
No bactericides needed
Low foam and multi-metal capability simplifies coolant inventory
Minimizes machine maintenance and downtime
Low total costs
Non staining formula, great for all aluminum alloys
Certified to Boeing specification BAC 5008 Revision T for titanium, aluminum and steel
Greatest Operator Comfort; Welcome at Home

No sump stench!
No additions of biocides to the sump
Non-hazardous formula
Does not contain phenols, nitrites, chlorine, bactericides or DCHA
Proven gentle on hands!
Fully-compliant with expected EPA regulations
No mid- or long-chain chlorinated paraffins
No DCHA
No Bactericides
Already meets proposed formaldehyde standards
The perfect coolant for central system. Will eliminate odors and the need for additives, and will lower coolant consumption 15% to 25%.
Recommended Starting Dilutions:

Operations
Iron & Carbon Steel
High Alloy &
Stainless Steels
Tool Steels
Aluminum
Copper Alloys
Grinding

5% to 6%

5% to 6%

5% to 6%

5% to 7%

4% to 5%

Milling, Drilling,
Turning, Cut-off, Sawing, Screw Machining

5% to 8%

7% to 9%

6% to 9%

5% to 8%

5% to 7%

Tapping, Reaming,
Broaching, and
Form Milling

5% to 7%

8% to 12%

8% to 10%

8% to 12%

7% to 10%
Directions for Use
The sump life of this coolant, as with any other coolant will be greatly enhanced if charged to a clean system. You can utilize JTM's Sump Cleaner to disinfect your sump. KOOLRite 2270 can be metered through automatic dispensing systems available from JTM. Contact your representative regarding cleaning procedures and dispensers. Always add the KOOLRite 2270 concentrate to the water and not the water to the concentrate. Proper maintenance in removing extraneous oils is beneficial for extended coolant life. The concentration can be monitored by refractive index.
Refractive Index …………1.7
(Refractive reading x 1.7 = % of concentration of dilution)
Product Data
Appearance: Concentrate
Appearance: Dilution
pH (concentrate):
pH (10% dilution):
Density (lbs/gal):

Opaque Amber
Milky
9.15
8.9
8.0