Technical Library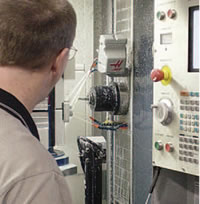 Learn more about coolant management and how it can benefit your business.
This seven-part series investigates the importance of coolant management, revealing several costsaving techniques that will significantly enhance the productivity and profitability of your business.
Part 7 — Instructions for Coolant Start-Up and
Testing of KOOLRite 2290
What is recycling?
When working with a new coolant it is important that all remnants of the previous coolant are thoroughly cleaned out of the machine tool. Preferably, a comprehensive sump cleaning should be performed. Introducing a new coolant into a fresh sump will provide an ideal environment for your coolant to candidly reveal its true sump life and performance.
If a complete cleaning is not possible, remove as much of the old coolant as you can. It is unlikely that small amounts of old coolant will cause any serious chemical compatibility issues with the newer fluid.
When mixing soluble oil coolants, it is important to mix the small part into the large part. In other words, always add the coolant to the water and not the water into the coolant. Should the latter occur, you may create an inverted emulsion, resulting in stringy masses of unmixed (and potentially unusable) coolant, typically requiring a complete recharge of your machine.
To begin, fill your mixing container or the machine's sump with water up to 2/3's capacity (66%), then mix in the coolant.
If you are mixing in the machine tool's sump, start the coolant pump and slowly add the coolant as close to the pump's pick-up as possible. To ensure that the coolant mixes properly, you may use some form of manual agitation as you pour.
Once you have added KOOLRite 2290, check the concentration level before starting your machine. To check the concentration place a small sample on your refractometer and take the reading. F.Y.I. - 2290's refractive index is 1.3. Take your reading from the refractometer scale and multiply it by KOOLRite's 1.3 index. This will give you the percent of coolant in the mix. For practical purposes, refer to the table below.
Concentration Table
| | |
| --- | --- |
| % Concentration | Refractive Reading |
| 2.5% | 2 |
| 5% | 4 |
| 7.5% | 4 |
| 10% | 8 |
Recommended Concentration
| | |
| --- | --- |
| General Machining | 7% |
| Aluminum | 7.5% |
| Difficult Machining | 10% |
| Exotics | 7.5% to 10% |