Barracuda™ Triple Action Lubricant and Rust Penetrant
The best penetrating oil for rusted bolts on the market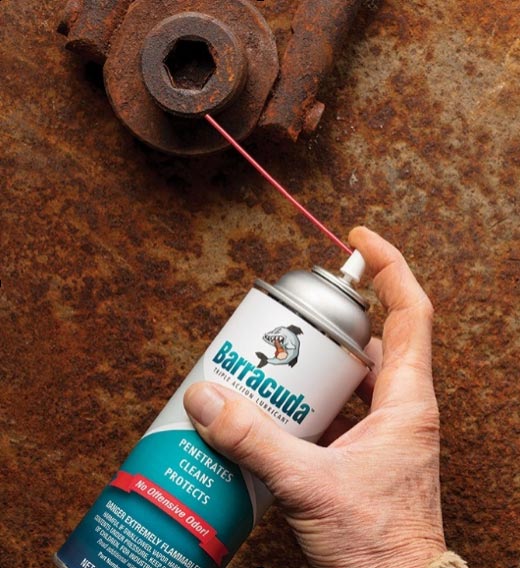 Barracuda Triple Action Lubricant is a breakthrough multi-use product intended for shop or factory applications. Its proprietary formulation outperforms competitive products with its superior "bolt-busting" rust penetrant performance on seized fasteners while also providing excellent cleaning and corrosion inhibitor protection for metal surfaces.
Penetrates Rust
Barracuda is the best rust penetrant on the market today. It easily penetrates rust and breaks-free seized fasteners better than the leading consumer penetrant. Unlike other products Barracuda keeps fasteners from quickly re-seizing. Its unique chemistry works fast, attracting it to the metal to break loose even the most corroded bolts. Its fast-acting formula allows you to spend less time trying to loosen fasteners, expediting the repair process which reduces overall MRO costs. One user whose application is regularly exposed to saltwater states that Barracuda is the best product he's found to loosen rusted bolts.
Cleans Grease, Grime and Rust from Metal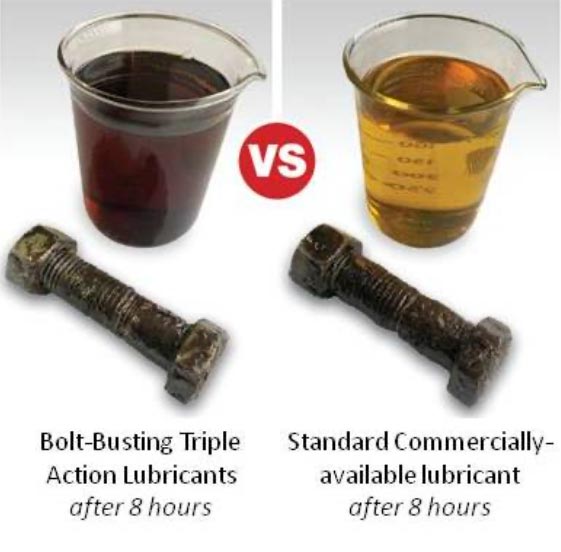 This advanced triple action high performance lubricant quickly removes grease, grime and rust. Caked-on gunk is removed without having to use harsh solvents or the over-powering odor or caustic fumes from other products. Plus its non-staining formula provides high lubricity without leaving a sticky film.
Corrosion Inhibitor to Protect Metal
Independent laboratory testing proves the new generation rust inhibitor in Barracuda Triple Action Lubricant delivers the best protection in even the harshest environments. A special water displacement property wicks away moisture from metal surfaces while providing an unnoticeable thin film protection.
Primary Applications
Rust penetrant to loosen frozen and seized pipe joints, nuts, bolts, screws, clamps, etc.
Lubricates hinges, slide mechanisms, bearings, gauges, etc.
Rust penetrating high performance lubricant that breaks down rust and lubricates stamps & blanks, light to medium gauge aluminum or steel coil/sheet stock.
Rustproofs machine tables, bushings, machine/hand tools, gun barrels, farm implements and any area susceptible to corrosion or high humidity.
Displaces moisture from motors, pumps, wires and switches.
Cleans off rust and light oils from machine beds, chucks, ways, gears, threaded holes and internal machine parts.
Barracuda™ Triple Action Lubricant is available in:
11 oz. aerosol cans of rust penetrant spray
1 gal. (3.79 liter) jugs
5 gal. (19 liter) pails
55 gal. (208 liter) drums